Personal Best Maths through Ipsative Assessment
Tuesday, 02 June 2020
---
#MathsConf23
'Personal Best Maths through Ipsative Assessment' ' is a blog preview of Andrew Woods' #MathsConf23 session/workshop being run at #MathsConf23.
---
Personal Best Maths through Ipsative Assessment
Lockdown has got me running again and pondering if the analogy that education is a race has any merit. If so, what would the finish line be? GCSE's? A-Levels? Do all students run the same race? Maybe you are more familiar with the football analogy and call them goal posts. Did we ever find out where they moved too?
Maths Assessment Landscape
Analogy aside for now. Maths assessment has changed drastically the last decade with the removal of national curriculum level and new GCSE grading system. I would be very impressed if any school has developed the perfect system of tracking. If you have, I'd love to hear from you.
During this period of assessment change many of us wrestled with assessment and what would be best. But unfortunately, with freedom of devising our own methods of tracking came the looming finishing line. Then comes the temptation to work backwards from the finishing line becomes very strong. The tail can wag the dog.
As a previous head of department, I was fixated on targets. I loved data. Targets everywhere: for my class, targets for cohorts, targets for students, targets for staff etc... but do we limit our students (and/or staff) by attempting to meet targets? Is that the best way forward and are we too focused on the finish line?
I got a bit fed up of the number of times I used to have to justify not meeting targets, especially what felt like arbitrary targets plucked from thin air. Students' data targets are often not something that is in our control. They are typically an indicator based on a given performance on a given day when they were younger and not representative of where they might be now.
What about Ipsative? (the underdog)
Over time I have realised that in order to have a sense of calm and sanity (if these ever exist in a school) you must focus on what you can control. Focusing on teaching, relationships and feedback enables me to be the best version of myself and, in turn, help the students to be their best.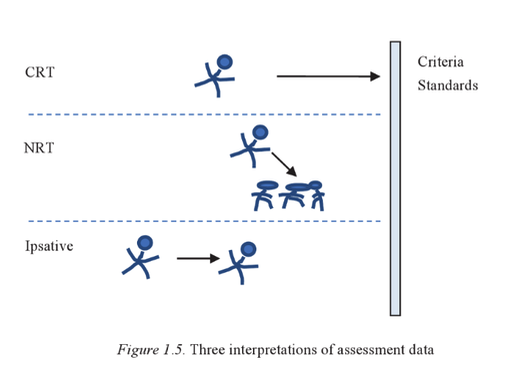 I really like this diagram from Wong Khoon Yoong's (2015, p.24) book about the three interpretations of data. Criteria and norm-referencing is common practice, and both have their place. Healthy competition can be a strong motivator (however from my experience this is limited to the few in the class that have a chance of winning). We also need to be aware of national standards so that complacently does not slip in. But I wonder if we don't do enough of the third, Ipsative assessing, and what benefits it may have for students.
What is Ipsative assessment?
Maybe diluting a focus of criteria referenced success to ipsative can help students to also be the best version of themselves.
'Ipsative assessment means the assessment is referenced to learners' former performances, resulting in a descriptor expressed in terms of their 'personal best' (Issacs, 2013)
We can't ask for more. I certainly think targets and criteria referencing are important and holds an important part of accountability. But could less emphasis and a more blended approach to assessing help? Maybe, as a result of a personal best performance the targets become a by-product (if the targets are realistic).
Maths assessments can be very flexible and making it visible for students to see progress can be achieved. Using a before and after approach students can start to witness the learning they are making regardless of where they lie on the GCSE measuring stick.
A final short analogy to explain my point. I used to run very competitively in athletics and if, let's say a coach, continued to compare my running times now to what I used to do I would become very demotivated and start asking "What's the point … I can't beat those times". Instead, if my coach focused on my improvements each week it becomes a rewarding experience and I can also see the improvement in my fitness. Just because I don't come close to my PB does not mean I can't still be the best I can be right now.
Maths Conference Sign Up
MathsConf23 is free this year and online! If any of these ideas strike a chord with you and you are thinking about how to use assessments going forward, then come and join me during the MathsConf for my session. We will be exploring the possible benefits of an ipsative approach and discussing some simple ideas that could change the culture of assessing into something positive for all students.
Andrew Woods (@Mr_Woods_Maths)
Wong Khoon Yoong (2015, p.24). Effective Mathematics Lessons Through An Eclectic Singapore Approach.
Isaacs, T., et al. (2013). Ipsative assessment. In The SAGE key Concepts Series: Key concepts in educational assessment (p. 80-82).
---
You can see Andrew Woods speak about "Personal Best Maths through Ipsative Assessment" during #MathsConf23 at Virtual MathsConf on Saturday 20th June 2020
We look forward to seeing you at our next La Salle Education Event if you don't already, follow us on Twitter @LaSalleEd