Maths Teaching and Assessment
Written by Catherine Ashby Friday, 01 February 2019
---
Principles of new assessments
Focusses on retention and independent learning. All students know how they can make progress at all times. Ensure students see that effort = success All students are making progress from our regular low stakes assessments (feed forward). The feedback cycle is completed as feedforward is checked. If feedforward indicates they are not making progress from the feedforward then we follow up from this. Teachers know where student weaknesses lie and plan responsive teaching to work on these. Teachers know the students who are really struggling overall and can put intervention in place to work on this. Teachers know more information about disadvantaged students and give personalised intervention (for example through personalised questioning). We aren't waiting till the half termly assessment to realise that students haven't understood something. Ensure teachers have time to plan responsively and are able to personalise their lessons.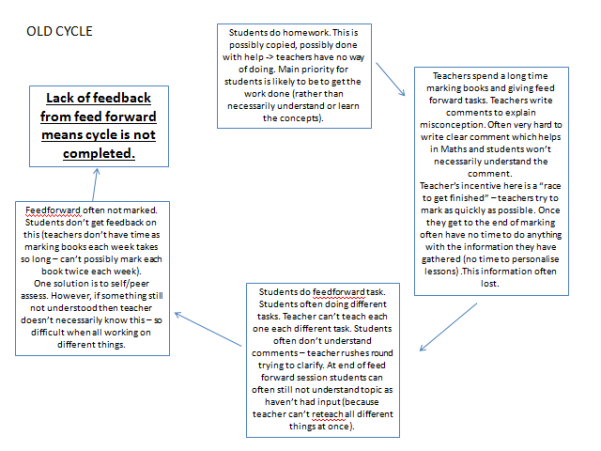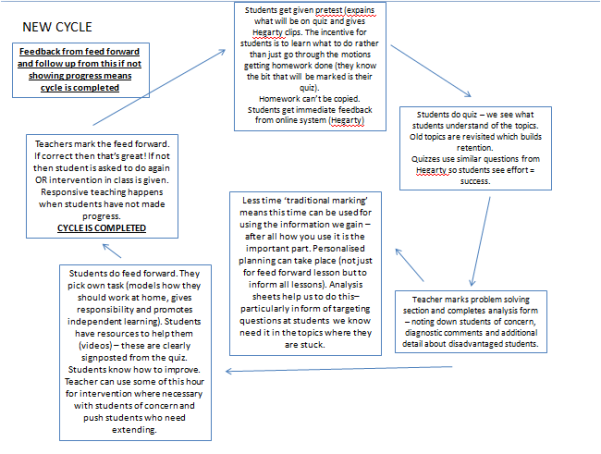 How it works
Pretests
Students are given a pretest. This includes 5 topics. 2 are topics that have just been studied. 3 are topics that have been studied previously (sometimes in a previous year). The questions will typically be of an A01 style – the idea here is to check they understand the topic and technique. There is a separate problem solving section at the end. 1 of these 3 topics will often be a prerequisite for a topic that is about to come up – particularly useful as this can guide planning for the new topic. Topics are repeated over quizzes (generally with almost identical questions but different numbers – so students can use previous quizzes to revise from). Also, questions will be quite similar to the questions on online clips/quizzes be that from CorbettMaths or Hegarty Maths. This ensures students see that effort = success. The pretest includes clip references to Hegarty Maths or Corbett Maths – allowing students to see videos as well as do questions and get immediate feedback. Part of the students homework is to revise for these quizzes. Students are often given the choice of which ones to work on (e.g a typical HW would be complete 2 Hegarty clips from the pretest sheet). This homework must be written in full in student's books and must be marked as they go along.
Quizzes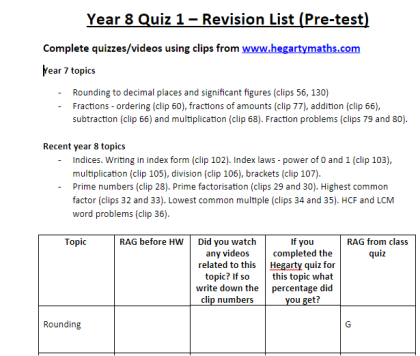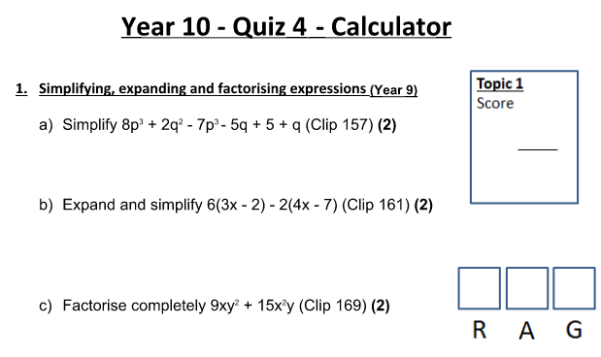 Quizzes are given every 6-8 lessons (approximately every 2 weeks). Quizzes are made up of the 5 topics discussed above and a separate problem solving section. Each question has a clip reference next to it. This means after the quiz is complete students can do feed forward independently by watching the video written next to the question and do not need input from the teacher at this stage. Students RAG rate each section to indicate their confidence. Students peer assess the 5 topics from the assessment. Teachers mark the problem solving section (typically 3 questions of 3-5 marks). Teachers also complete an analysis sheet (explained later). Quizzes and feed forward sheets are kept in cardboard folders which students bring to every lesson. Books are not marked in a traditional way- they are checked by teachers in the lessons – instead this teacher time is used to mark problem solving section of quizzes, analyse quizzes and mark feed forward. Students complete Hegarty Maths work in their books and mark it themselves (this is checked in class by teachers). Worksheets set for HW are peer/self assessed. Feed forward
A feed forward sheet is attached to the front of every quiz.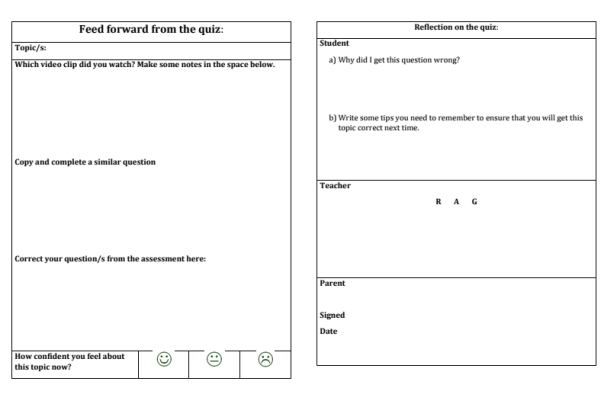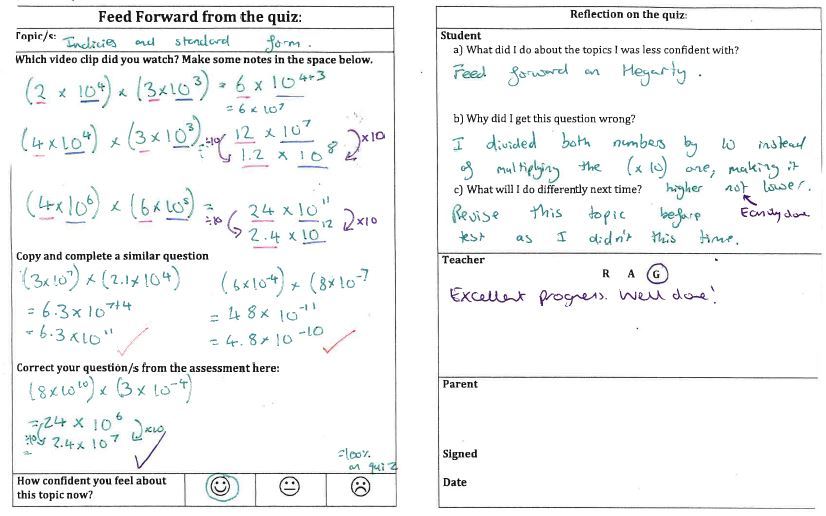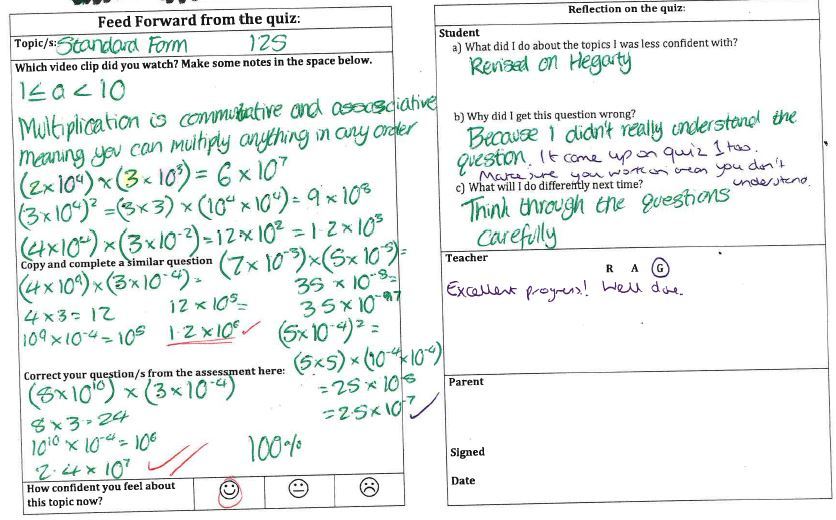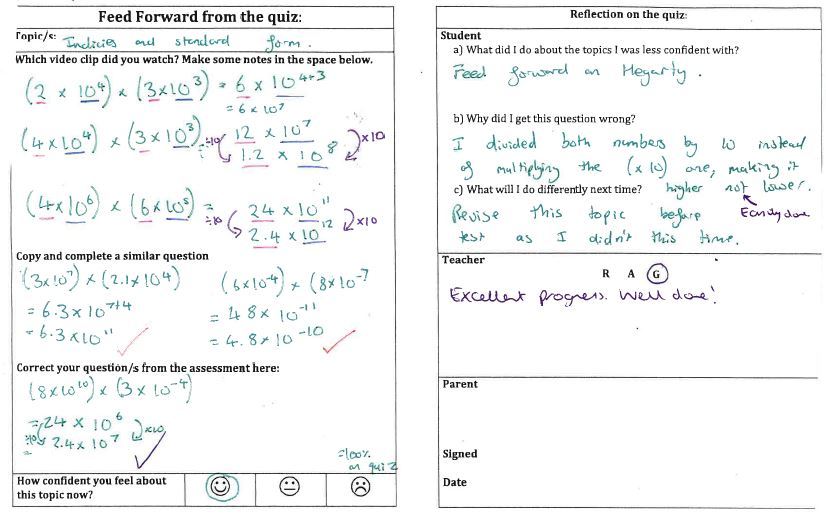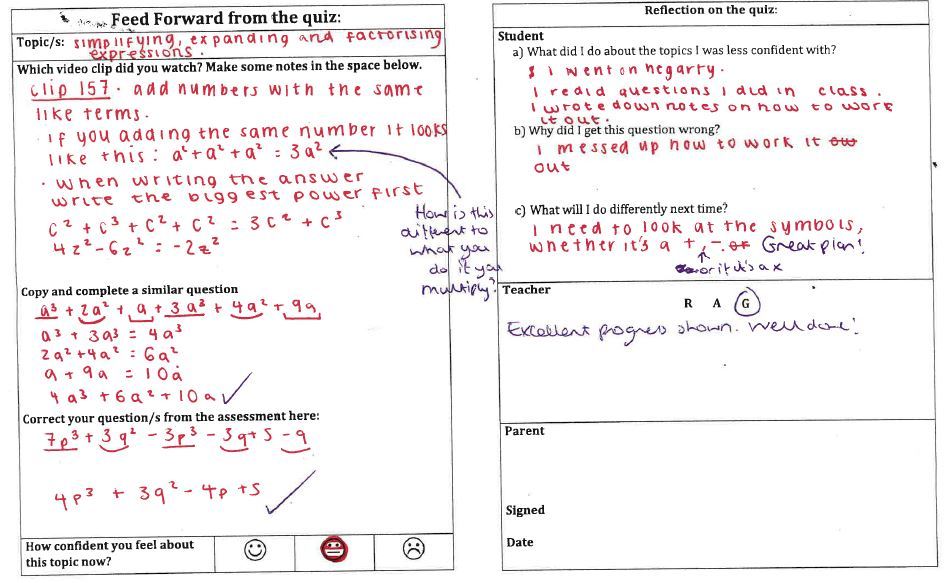 The lesson after the quiz is a 'feed forward' lesson. The laptops/iPads/computer lesson are booked for this lesson Once teachers have marked the problem solving section (and checked the marking of other sections) they give back quizzes. No comments from teachers need to have been written (although teachers will sometimes choose to do this if they feel this will be beneficial) as the video clips clearly indicate where students can go to be shown how to do this type of question. The good thing about this is that students can choose to do more than 1 clip from the quiz if they want to improve further. This is much more powerful than 1 comment which is likely to only be read once. If students wanted to they could feed forward on every single question they got wrong at home. Teaching them independent learning and resilience. In the feed forward lesson students pick one question they got wrong and look at the clip number attached to this question. They fill in the feed forward sheet with notes, practice questions, corrections to the original quiz question and some hints/tips based on the topic. This takes a whole lesson. The quizzes are taken back in. Teachers RAG the feed forward and record this in their mark book. They also write a short (typically 1 sentence) comment relating to the feed forward.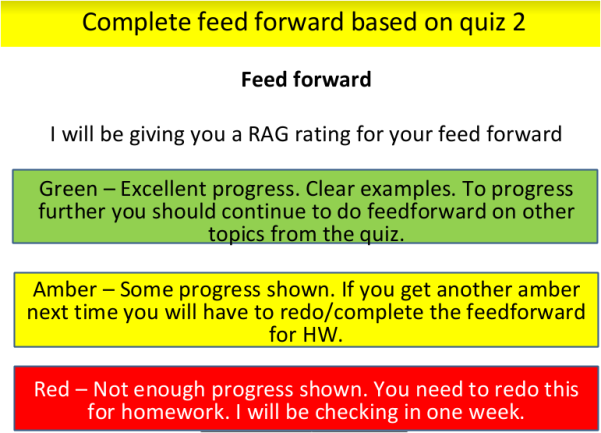 This ensures the feedback cycle is completed. By the end of the cycle Students have worked on topics over 2 weeks in class and at home They have been tested in exam conditions. After their quiz is marked they have the chance to use video clips and their books to make progress on one particular topic in class (feed forward). Teachers check that feed forward demonstrates that students have made progress. If not teachers ask students to redraft or intervene and give extra help where required. Noting down the RAG rating for feed forward means teachers are aware if any students are repeatedly not making progress from the assessment cycle.
Analysis sheet and responsive teaching
When teachers initially mark the problem solving section of the quiz they analyse the marks on each section of the quiz (each topic).. If students are a 'concern' on any topic (typically less than 50%) then their name is noted on a spreadsheet. In the topic section only students of concern are written down – if they're doing well then that's great – we don't need to worry about them! Teachers track percentages for quizzes over time – if students are dipping then need to look at why this is the case. There is a section on the analysis sheet for disadvantaged students and students having interventions. Teachers write a short comment about each of these students. Teachers use this to personalise lessons for these students. People teaching additional intervention sessions can also use this to ensure the sessions are used effectively. Teachers are expected to use this information to responsively teach. For example they may do a starter on a topic from the previous quiz and guide their questioning toward students who were previously a concern on this topic. The RAG rating of feed forward (discussed previously) is also noted on this analysis sheet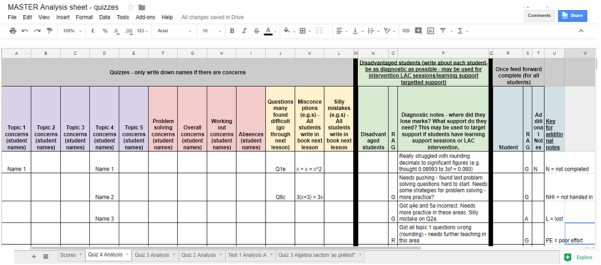 Teacher responsibility
This may sound complicated and may seem like teachers are doing rather a lot. So to clarify… over one cycle (approximately 2 weeks) teachers are expected to Give out pretests at the start of the cycle Set homework based on this pretest Mark the problem solving section of the quiz (typically 3 questions) Complete an analysis sheet where they note which students are a 'concern' using the scores for each topic. I would expect the analysis part to take approximately 1 minute per student. Additional detail for all disadvantaged students. Teach responsively using this information (e.g. plan a starter based on 1 topic – focus questioning towards the students who are written as concerns for this topic, while others are getting on with something group together students of concern on a topic and reteach). Respond to feed forward sheet with a RAG rating and short 1 sentence comment. Typically this comment will be something like "Excellent progress shown" for a green rating, "Ensure you make careful notes from the video" or a comment about a specific misconception if giving a red/amber rating. This could be seen to be 'triple marking' – the assessments have been marked, students have made corrections/done additional work on the topic and then teachers are marking again. However, we see this differently – we have put our comments at a different stage in the cycle than traditional – instead of immediately giving comments when students get something wrong, we give them the time to use videos to put this right and then write a short progress focussed comment – at the time when it's needed the most. If the student has made effective progress – excellent – job done! If they haven't – then teachers do something about it and they keep a record of this to ensure this doesn't keep happening over time. Would be really interested to hear people's thoughts and how we might be able to improve our current process.
We've found we spend less time 'marking' but are much more aware of where our students misconceptions/weaknesses lie and we spend much more time planning to deal with this responsively and personalising our planning to meet the needs of our students.
Also, previously we would get to the end of a half term, do an assessment and then feel awful about how much some of our students had not retained. Now we know this much more quickly and can keep assessing them on topics to ensure this information is retained. There isn't that horrible stomach dropping feeling at an end of term assessment!
---
You can see Cat Ashby speak about "Feedback NOT Marking in the Maths Classroom" during #MathsConf18 at the City Academy Bristol on Saturday March 9th 2019.
Don't forget in March we also have our 'FREE' Maths Teacher Network events in association with Oxford University Press and AQA.
We look forward to seeing you at our next La Salle Education Event if you don't already, follow us on Twitter @LaSalleEd
About the Author
Cat has been teaching Maths for 6 years and works as a KS4 Maths Coordinator at a school in Bristol. She is interested in effective use of assessment and addicted to finding awesome resources.
In September Cat became a KS4 Coordinator of Maths. Since then she has made a lot of changes and wanted to share and see what people thought. Cat would be really interested in any feedback (positive or negative) so feel free to get in touch.