Let's move beyond the interactive whiteboard
Written by Patrick McGrath Wednesday, 19 September 2018
'Collaboration & Creativity with Technology in the Maths Classroom' is a workshop being run by Patrick McGrath at #MathsConf17.
---
Technology. It's often perceived as a challenge for the maths classroom. We'll check out what our peers are using, we'll look at what EdTech companies are offering, but when we voice our concerns, we'll often be met with the line "There's an app for that" . The problem of course is that, sometimes, there isn't.
Sure, we may all have access to amazing apps, programmes, web tools and resources that help explain or visualise key concepts, or help with repetitive practice, but the thing is, that's not the purpose of education technology. Its use should be grounded in teaching and learning - in providing context, in deepening the learning experience, and in providing ways for students to articulate their learning in ways never before possible.
In my role as EdTech Specialist at Texthelp, maths teachers are without doubt my favourite set of practitioners to work with - they're passionate about learning and equally so of their subject, but the one thing I hear a lot when we talk technology? "There's nothing in it for me". When we poll a room, the number one piece of technology chosen is the good old Interactive Whiteboard. It's a great tool and one not many of us could do without, but it's not representative of the amazing learning opportunities we can provide to our pupils with the vast range of tech available to us as educators.
So, it's time for a change. It's time to move beyond the Interactive Whiteboard. In my upcoming session at MathsConf17, together we'll explore and discover 10 amazing ways to build technology into the maths classroom and to encourage pupils to use technology at home to enrich their learning.
We'll be looking at collaboration and creativity and how, by using just a small selection of tools, we can enable these things and in doing so increase engagement - building towards a love of learning and of maths itself. Let's see how we can truly build context around maths activities and understand the positive impact that providing multiple means of expression can have.
We won't get bogged down in complex techspeak. We won't be talking in acronyms and we won't be talking about Google vs Microsoft vs Apple. Technology should be there to support regardless of your 'platform'. So, we'll stick as always to teaching and learning and focus on creating meaningful outcomes for pupils.
We'll also be 'building bridges' with a new and exciting tool from Texthelp called EquatIO®. Created by a maths teacher, it's a tool actually grounded in teaching and learning. It helps pupils use maths in a digital environment, express maths concepts, explore graphing with Desmos integration and enables amazing opportunities for Assessment for Learning.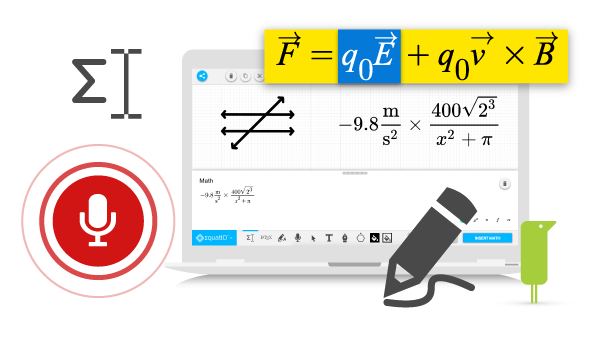 EquatIO helps students and teachers - and we provide it free to any teacher via https://text.help/e8VcrH - so grab yourself a copy, and join me for Collaboration & Creativity with Technology in the Maths Classroom at MathsConf17. I promise to send you away challenged but armed with a knowledge of the tools you can start with right away. Plus, if you're lucky, you'll be in with a chance to grab one of our amazing 'I Love Maths T shirts'
Lot's of learning, lot's of resources, free software and maybe even a T Shirt - what's not to like?!
Check out our video below to get a quick introduction to EquatIO:
You can read more about EquatIO at https://text.help/jxOlom and discover how Texthelp have helped over 15 million people around the world understand and be understood.
About the Author
In his role as EdTech Specialist at Texthelp, Patrick is a passionate educator and he takes the lead on ensuring our products have a real and meaningful impact on teaching and learning for all.
Working with partners and schools around the world, Patrick aims to ensure that Texthelp products achieve their vision of 'reaching all learners' by empowering teachers and pupils in personalising their learning through education technology.