ATM_MathsConf21
Monday, 30 September 2019
---
Fed up with paperwork? Wondering what you achieved sitting at your desk for the past two hours? Need some stimulation to refresh your practice and enthusiasm?
Membership of, or involvement with, a subject specific professional association such as ATM (The Association of Teachers of Mathematics) offers many ways to do this.
The annual Easter conference, one day CPD courses, our journal, Mathematics Teaching, and our publications are examples of the ways our members are encouraged to reflect on their practice and discover new approaches and tasks.
At #MathsConf21 we have a bookstall with our most popular publications available to buy. These contain ideas for your classroom, together with some thoughts about how to use them and the pedagogy, or teaching strategy, that underpins the task. Trying a new approach in the classroom can be scary and we often include suggestions on how to manage its implementation with minimal risk.
In particular, 'Algebradabra' gives a sequence of tasks to develop algebraic understanding in learners. In each 'lesson' an initial task provides a scenario, and this is developed in subsequent tasks in the lesson. Suitable for learners age 11 and upwards, these tasks have a commentary that enables you, the teacher, to quickly get your head around the learning journey in the lesson and a downloadable pdf with the slides ready for you to use. This is a massive time-saver and you can be sure of the quality of the task and its intended learning outcomes.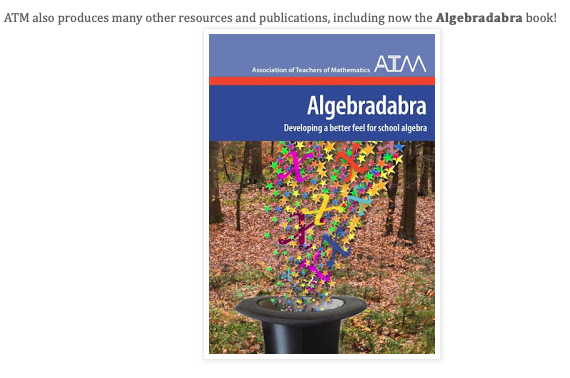 This year we are trialling free e-membership for those training to be teachers of mathematics. This gives access to our member-only resources and all the ideas in our journals. These can help with lesson preparation and those assignments that require evidence of wider reading. Always very readable, the articles in the journal can give you insight into what happen in other teachers' classrooms and heads! If you have a trainee working with you tell them about this offer and encourage them to join ATM. Encouraging trainee teachers to reflect on their practice is a vital part of mentoring them and our publications are written to develop those skills.
As a reflective practitioner you will not only see that a task or strategy worked well in the classroom but will also begin the journey of understanding why it worked well. We all (hopefully!) reflect on lessons that go badly in order to avoid that happening again, but it is as important to understand why things work when they do. It is not a matter of chance – even though it may feel like it sometimes!
You can find out more about joining The Association of Teachers of Mathematics (ATM) on the ATM website Click here to #JoinTheATM

---
You can see EXHIBITOR in the networking / Exhibitor slots during #MathsConf21 at Peterborough on Saturday 12th October 2019
Don't forget in December we also have our 'FREE' Maths Teacher Network events in association with Oxford University Press and AQA.
We look forward to seeing you at our next La Salle Education Event if you don't already, follow us on Twitter @LaSalleEd